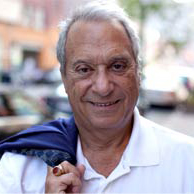 Joseph Lovett started Lovett Stories + Strategies (as Lovett Productions, Inc.) in 1989 after 10 years as a producer at ABC News 20/20, following 5 years as an editor and producer at CBS News Magazine which was created as a daytime 60 minutes for an at home audience.
Before working for the networks, Joe was a freelance editor and assistant working on networks, features and industrials. He had gotten into film as an MFA student at Columbia, but with his first year culminating in the Columbia Student Strike, he had no inclination to go back to return to the Columbia campus.
The first film he produced for CBS was PARENTS OF GAYS in 1977. Produced four years after homosexuality was declassified as an anxiety disorder and eight years after the Stonewall Riots, PARENTS OF GAYS was the first presentation on network television where homosexuality was presented as within the normal range of behavior.
At 20/20, Joe was best known for having presented the first television investigations into the US government's inaction on the AIDS epidemic. As an openly gay producer, Joe was able to fight for the story being in a situation to know what was going on. He was a generalist doing stories on Mike Tyson, the Duvaliers, celebrity profiles, airline safety, and other medical issues. He often represented ABC at health risk conferences.
Joe opened Lovett Productions, Inc. in 1989 with the idea that as a former top network producer from a major prime time magazine, he could produce industrials the profits from which would allow me to make the independent films he wanted. What he found was that corporations were reluctant to work with new people and that some internal communications people could feel threatened by a seasoned network producer. So getting into the industrial field – which finally did happen – required a lot of salesmanship.
However, Joe was soon being asked to produce network documentary hours, the first of which was AMERICA'S MISSING CHILDREN for CBS.
Shortly thereafter he developed IN A NEW LIGHT for ABC which is an AIDS educational outreach and entertainment annual special. It ran annually from 1992 – 1996 and was developed in conjunction with the US Centers for Disease Control and Prevention in Atlanta.The project was greenlit by Phil Beuth, then president of early morning and late night at ABC. Phil was a champion of the fight against AIDS having lost his son Barry to the disease. Because of his prominence he was able to get the shows extraordinary publicity, earning them excellent ratings.
In 1999, Joe directed and produced his first feature doc THE ACCIDENT, a Rashomon type film about his family. It did very well in the festivals, but was never released due to prohibitively expensive music rights.(https://www.austinchronicle.com/screens/1999-03-26/521668/)
That film led to Sheila Nevins asking Joe to produce CANCER:EVOLUTION TO REVOLUTION, a 2.5 hour television event for HBO which won the Peabody Award for the 2000 season. We have C:ETR  on Youtube for free viewing. For HBO, we also produced THREE SISTERS SEARCHING FOR A CURE (Tribeca premier) on ALS and TOO HOT NOT TO HANDLE on climate change.
Lovett also produced STATE OF DENIAL, a feature film on Mbeki's AIDS denialism in South Africa (Sundance premier and PBS airing),  and ROCK BOTTOM on New York gay men and the crystal meth epidemic.
Lovett's film GAY SEX IN THE 70S premiered at the Tribeca Film Festival 2006, had a great international festival life, strong theatrical distribution, and a run on the Sundance Channel. GSITS  is still being distributed through the film's website and on iTunes. It has become a classic, regularly referred to in discussions of gay life and still enjoying occasional screenings. Lovett is currently working to get GSITS into university and public libraries and to re-release the film through a series of screenings to commemorate the 50th anniversary of the Stonewall Riots in 2019.
GOING BLIND is Lovett's 2010 documentary on the stories of everyday people and their heroic efforts to live in today's world despite their varying levels of vision loss. Since the debut of the film, it had a public television run and has been distributed to numerous medical schools and community groups for educational purposes and has been called an incredible resource for demonstrating the patient perspective.
In 2014, Lovett opened A Closer Look, Inc a 501(c)(3) that uses a trauma informed focus to minimize suffering, maximize empathy and inspire action on health and social justice issues by sharing unique perspectives through film and other creative media.
Lovett's most recent full length documentary CHILDREN OF THE INQUISITION: THEIR STORIES CAN NOW BE TOLD re-examines history as it reveals the secrets of the families who were forced to convert or flee during the Spanish and Portuguese Inquisitions (1478-1834). These families' stories are told by a diverse, multi-racial cast of their contemporary descendants, many of whom are just discovering their once very problematic Jewish roots. Their complex journeys across continents and oceans with ever-changing names and identities is masterfully described in the film by the leading historians of the Sephardic diaspora. These medieval migrations, searching for safe havens, give a fascinating perspective to the forced migrations that so many people face today. Similarly to GOING BLIND, A Closer Look has distributed this film amongst schools, program, and community groups with a fascination in the history and diversity of Jewish heritage. With this outreach have come numerous screenings, talkbacks, and discussions.
With A Closer Look, Lovett made his first animated short SOMETHING TERRIBLE HAPPENED TO JOEY in 2021. STHTJ uses its unique animation, emotional narrative, and impactful narration by Rosie Perez to teach children of all ages that it is possible to survive and thrive after trauma. The film has gone to multiple festivals and is in development for integration into the New York State public education system.
Now Lovett works on his next animation MEDITATION ON A SHOESTRING with A Closer Look and animator Oscar Wyndham Lewis (of STHTJ).
Back